Crochet Emoji Patterns
Pattern that helps you to make 4 cute emojis: smiling face with a big heart in arms, winking face with tongue, astonished face, face with open mouth and heart-eyes.
Pattern is in EN US-term.
Pattern is simple and well-written with many photo tutorials and video tutorials included.
* Note: You will get PDF files via your email address after payment confirmation!
Introducing 4 beginner-level crochet emoji patterns that will bring a burst of joy to your crafting projects. Get ready to crochet these delightful emojis, perfect for expressing your emotions and spreading smiles.
Welcome to the world of crochet amigurumi! If you're a fan of adorable handmade toys, you're in for a treat. My featured patterns include a smiling face with a big heart in its arms, a winking face with a tongue sticking out, an astonished face, and a face with an open mouth and heart-eyes. Designed with beginners in mind, these patterns are perfect for those new to crochet amigurumi.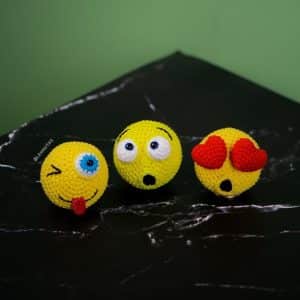 Whether you're looking to create unique gifts or add whimsy to your collection, these crochet emoji patterns are a fantastic starting point. What's more, you can even incorporate these cute emojis into my existing patterns, like my adorable crochet snail, by replacing the snail's original shell with one of these delightful faces. Imagine a snail with a heart-eyes shell or a snail sticking its tongue out – the possibilities for customization are endless!